Sanitary Measures
Organising SPORTEL Monaco 2021 safely
The well-being and safety of all participants and our team, are our absolute priority.
In addition to strict compliance with the usual health and safety standards applicable in our industry, SPORTEL implements a special protocol to address the current health situation. This protocol is fully in line with applicable rules and is adapted to reflect French and Monegasque Government recommendations.
These measures are a work in progress and will evolve according to changing French and Monegasque government recommendations and the health situation related to the pandemic.
Travel to France and Monaco
Health Pass (EU Digital COVID Certificate)
Travel to France and Monaco
The measures applied in metropolitan France are not in force in the Overseas Territories.
Each territory applies specific measures, which may include curfews or lockdowns, depending on the circulation of the virus in the specific Territory.
Therefore the conditions for entering France will depend on:
1. Your country of departure ("green", "orange" or "red" countries). More info
2. Your vaccination status with only one of the 4 following vaccines: Pfizer/BioNTech – Moderna - AstraZeneca/Vaxzevria/Covishield – Janssen.
Note: All other vaccines are not recognized by the European Union. The vaccination schedule is considered complete 28 days after the administration of a dose for Janssen vaccine and 7 days after administration of a second dose for other vaccines (Pfizer / Comirnaty, Moderna, AstraZeneca / Vaxzevria/Covishield).

Onsite, where can I have a PCR or antigenic test?
You can do a PCR test in a medical biology laboratory in town (see list below).

The Moneghetti Laboratory is the only lab in Monaco for the PCR test (by appointment only) | Tel: +377 93 50 99 00
Next to Monaco (specific timetables):
Beausoleil | Leclerc Laboratory | Tel: +33 4 93 78 52 12
Beausoleil | Gallia Laboratory | Tel: +33 4 93 78 56 23

For an Antigenic test (by appointment only):
Pharmacie de l'Estoril | 31 Av. Princesse Grace, 98000 Monaco | Tel: +377 93 50 44 33
Pharmacie des Moulins | 27 Boulevard des Moulins, 98000 Monaco | Tel: +377 93 50 65 85
Pharmacie Wehrel | 2 Boulevard d'Italie | Tel: +377 93 50 64 77
Full List of pharmacies and laboratories
What are the sanitary measures at the Convention Center
A valid EU Digital COVID Certificate, a proof of full vaccination, or a negative test result is required EVERY DAY at the entrance of SPORTEL. Please note that the health pass is considered legitimate only in association with your ID document.
A bracelet will be provided to you each day to re-enter the convention center easily without having to show your health pass and ID again.
Your bracelet and your Badge are both required to enter SPORTEL.
As the host venue for the Event, the Grimaldi Forum Monaco convention centre is closely monitoring the evolution of the COVID-19 pandemic and constantly adapts its health protocol.
The Grimaldi Forum received the Monaco Safe label as proof of their commitment to health and safety.
Click here to find out more.
Health Charter
SPORTEL, an entity of Monaco Mediax, respects the Health Charter validated by the DASA (Monaco Health Division).
Click here to find out more
Exhibition Area
Extra restrictions and instructions put in place must be respected to access the convention.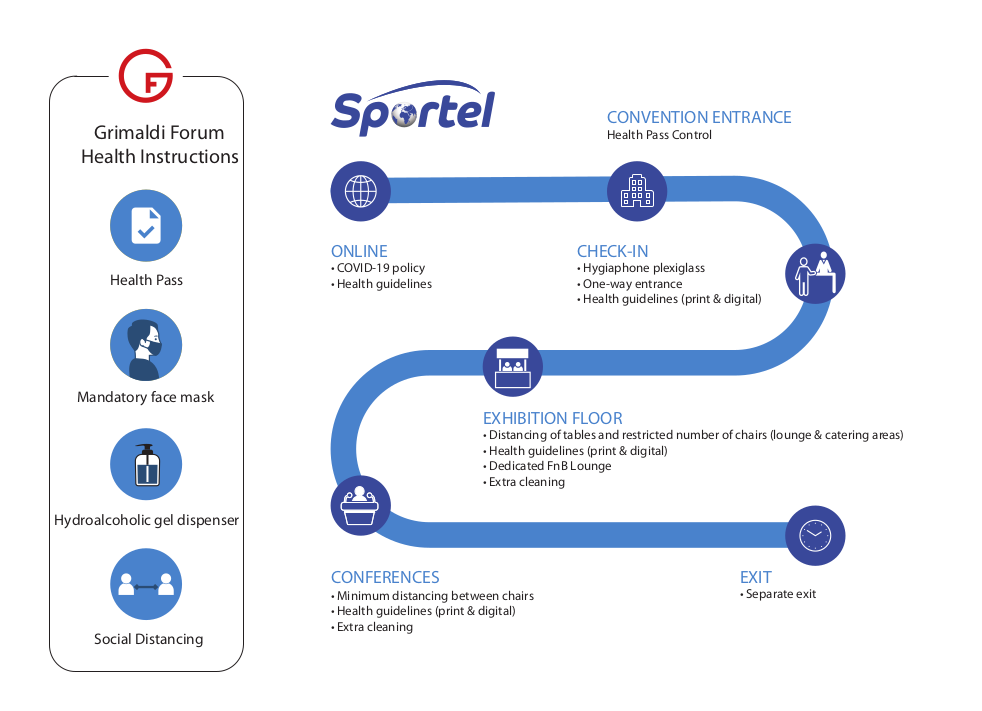 Terms & Conditions
In order to welcome its participants in the best possible conditions, SPORTEL adapted the terms & conditions for SPORTEL Monaco 2021.
The participant cancellation deadline is 4 October 2021.
What are the sanitary measures in Monaco
Wearing a mask outdoors is compulsory in the Principality for everyone over 5 years old.
Since the beginning of the health crisis the Principality of Monaco, a sovereign city-state and an independent country, has implemented a strict protocol to ensure the safety of its residents and visitors and to limit the spread of the virus.
Find here all of the information available about the measures taken in the Principality of Monaco to limit the spread of the virus and recommendations for your health and daily life.
For more information...
Should you wish to receive more information or do you have a specific COVID-19 related question (not admin related) feel free to
reach out to our dedicated contact.