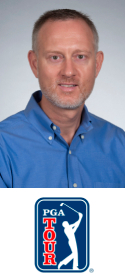 The PGA Tour International has been a SPORTEL regular for the last 20 years. As Thierry Pascal, Managing Director, PGA Tour International UK & SVP International Media, points out, it's a unique event: "The opportunity to get all of the sports media rights acquisition and distribution industry under one roof on an annual basis in familiar surroundings is invaluable to the Tour. It has allowed us to both make deals and build relationships with broadcasters, other leagues and rights-holders, and be on the pulse of an ever-evolving industry."
Leveraging advanced technologies to increase fan engagement will be the subject of a SPORTEL Masterclass in collaboration with SVG this year, and getting the best from new tech is very much top-of-mind for Pascal and the PGA Tour International: "Not only are Artificial Intelligence (AI) and Virtual Reality (VR) important fan engagement tools, but so are Augmented Reality (AR) and Machine Learning (ML)."
"We are in fact already using these technologies to create experiences for our fans on a regular basis. In 2022, at 10 events, we ran an on course AR experience that enables fans to see shot trails in near real time through their phones as they stand just outside the ropes on select holes. This has been done through our partnership with emerging AR company, Quintar.
Our goal is to eventually expand this to all of our courses. Over the past five years we have been using AI in a number of ways on our owned and operated platforms. We have worked with a company called Narrative Science that uses our Shotlink data and their AI algorithms to generate stories for every player after every round of a PGA Tour event.
At the same time we have worked with WSC Sports. They provide a SaaS AI platform that enables all of our highlights to be automatically clipped and published from our linear and streaming broadcasts. This has helped us to significantly increase the number of highlights we publish to social media and our own platforms every week, often going over 600 to 700 clips per week.
Also we have a great working relationship with Amazon Web Services. They are our official Cloud, AI and ML provider, and we are currently working with them to develop a whole new set of experiences that will be driven by their expertise in the AI and ML space," Pascal reveals.
"Added to that, we are currently exploring NFTs and the blockchain space with growing partnerships in digital video collectibles and the NFT-based fantasy league arena. We recently announced partnerships with both Sorare and Autograph."
Pascal also sees sports betting opportunities as being essential to core fan engagement and new audience growth. "There will of course, also be direct commercial benefits to the Tour and all of our various stakeholders, but we see this as an opportunity to get our fans more deeply engaged with our product on a week-to-week basis. In addition, if we continue to approach this space methodically and strategically, we can also use sports betting to grow our audience and expose the PGA Tour to new fans all over the world. Betting has been a component of golf since the first tee was put in the ground, and the structure of the game, the pace of play and the amount of content all combine to create what many believe is a unique opportunity for the PGA Tour.
We will continue to approach this space in an appropriate and responsible manner and are excited about the potential to grow this great game across the world by leveraging the evolving gaming industry and all it has to offer sports fans around the globe," Pascal concludes.